"CPython Internals:
Your Guide to the Python 3 Interpreter"
Is Now Available as a Paperback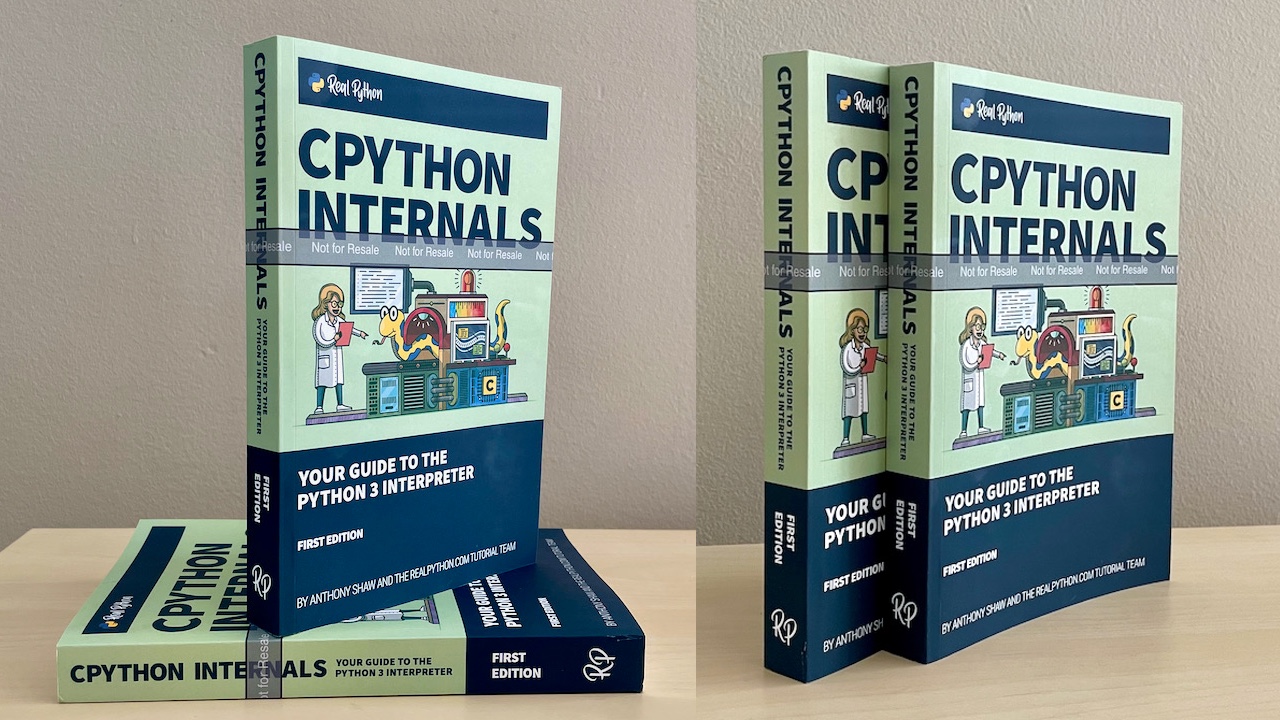 It's finally here…
And we're supper happy to announce the launch of the CPython Internals paperback!
If you haven't heard of CPython Internals before, it's a "guided tour" to the internals of the Python 3 interpreter. You'll pick up the concepts, ideas, and technicalities of CPython in an approachable and hands-on fashion:
It's been a crazy/awesome couple of weeks to get this 394 page book ready for release. It's a true labor of love for Anthony and the RP editorial team.
Here's an overview of the book by Anthony Shaw, Real Python Team member, CPython contributor, and the author of CPython Internals:
In terms of content, the print edition is identical to the digital version available on the Real Python online store.
Amazon also covers the book with their strong 30-day money-back guarantee, so there's zero risk for you.
To get your print copy, click the button below:
Clicking the button should automatically redirect you to your local Amazon store. Or you can use the direct links below:
(If your local Amazon store isn't listed here, try searching for "CPython Internals" or ISBN 1775093344 under "Books" and it should show up.)
Common Questions / FAQ
Does the print version of the book give access to the bonus materials included with the digital version? Yes, the paperback version includes links to the online resources. So you'll get access to the same content as customers of the digital edition.
Amazon doesn't ship to my address? You should be able to order the book from any local book store by giving them the ISBN code 1775093344. The book might take a little longer to become widely available outside of Amazon since we just published it, but it's not limited to being sold only on Amazon. It's just that Amazon is the largest distribution channel, so that's what we're focusing on for the launch right now.
The feedback we received from the Real Python community and early access customers was priceless—and we're all extremely happy with how the final book turned out.
Thanks for your support!
— Dan Bader, Chief Python Nut at Real Python
---
P.S. If you're getting a copy, I'd appreciate it if you could leave an honest review on Amazon.
Reviews are the make-or-break factor in a book's long-term success. They ensure that developers still find the book long after the "buzz" from the launch dies down.
So can you help us out by leaving an honest review for the book on the Amazon store? Thanks a bunch!