Congratulations! You're going to PyCon!
Whether this is your first time or not, going to a conference full of people who love the same thing as you is always a fun experience. There's so much more to PyCon than just a bunch of people talking about the Python language, and that can be intimidating for first-time attendees. This guide will help you navigate all there is to see and do at PyCon.
PyCon (US/North America) is the biggest conference centered around the Python language. Originally formed in 2003, this conference has grown exponentially and has even spawned several other PyCons and workshops around the world.
This year will mark my fourth year in a row attending PyCon, so I thought that I would share some of the notes that I've taken over the years to help you get the most out of your PyCon experience.
Everyone who attends PyCon will have a different experience, and that's what makes the conference truly unique. This guide is meant to help you, but you don't need to follow it strictly.
This guide will have links that are specific to PyCon 2019, but it should be useful for future PyCons as well.
By the end of this article, you'll know:
What PyCon involves
What to do before you go
What to do while you're at PyCon
What to do after PyCon
How to have a great PyCon
What PyCon Involves
Before we go into how to get the most out of PyCon, let's first establish what PyCon involves.
PyCon is broken up into three stages, as described by the official PyCon site:
Tutorials: We start with two days of 3-hour classes during which you get to learn in depth with instructors. These are great to go to since the class sizes are small, and you can ask questions of the instructors. I highly recommend going to at least one of these if you can, but they do have an additional cost of $150 per class.

Conference: Next, we have three days of talks. Each presentation lasts for 30 to 45 minutes, and there are about 5 talks going on at a time. But that's not all: there are also open spaces, sponsors, lightning talks, dinners, and so much more.

Sprints: During this stage, you can take what you've learned and apply it! This is a 3-day exercise in which people group up to work on various open source projects all related to Python. If you've got the time, I highly suggest that you go to this as it's a great way to practice what you've learned, become associated with an open source project, and network with very smart and talented people.
Since most PyCon attendees go to the Conference part, that will be the focus of this article. However, don't let that deter you from attending the Tutorials or Sprints if you can!
I've personally found that I've learned more technical skills by attending the Tutorials rather than listening to the talks. The Sprints are great for networking and applying the skills that you've already got as well as learning new ones from the people you'll be working with.
What to Do Before You Go
In general, the more prepared you are for something, the better your experience will be. The same applies for PyCon.
It's really helpful to plan and prepare ahead of time, which you're already doing just by reading this article!
Look through the talk schedule and see which talks sound most interesting to you. This doesn't mean you need to plan out all of the talks you are going to see for every slot possible, but it helps to get an idea of which topics are going to be presented so you can decide what you're most interested in.
Getting the Guidebook app will help you plan you schedule. This app lets you view the schedule for the talks and add reminders for the ones you want to attend. If you're having a hard time picking which talks to go to, you can come prepared with a question or problem you need solved. Doing this can help you focus on the topics that are important to you.
If you can, come the day before to check in and attend the opening reception. The line up to check in on the first day is always long, so you'll save time if you check in the day before. There's also usually an opening reception that evening, so you can meet other attendees and speakers, as well as get a chance to check out the various sponsors and their booths.
If you're brand new to PyCon, there's also a Newcomer Orientation that can help you get caught up on what the conference involves and how you can participate.
Recap:
Here's what to do before you go:
Look at the talk schedule.
Get the Guidebook App.
Come up with a specific question you want answered.
Check in the day before the conference.
What to Do at PyCon
It's okay if you're nervous or excited on your first day at the conference.
There will be a lot of people from all different walks of life, and that's what makes it so great. You may see some of your Python heroes, such as Guido van Rossum and and have a chance to go up to them and say hello.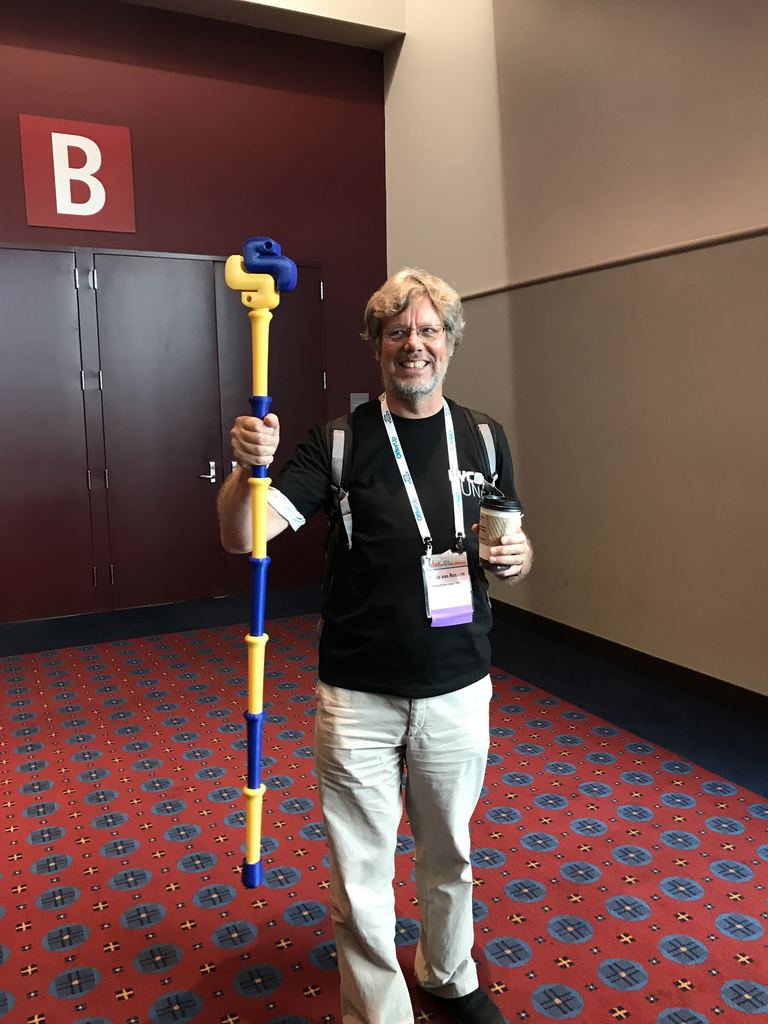 The Python community is very welcoming! But there are also some designated quiet rooms, where speakers and others will go to work in peace. You should refrain from talking to anyone in those rooms to allow them that safe space.
Let's break down the conference into some key elements and see how you can get the most out of them:
Talks
Open spaces
Sponsors
Volunteering opportunities
Lightning talks
After hours activities
Time for yourself
What to Do After PyCon
Once the conference is over, there's still a lot you can do. First off, if you have the time, there are the Sprints, which are a great opportunity for you to hone your skills and even gain new ones as a Python developer. They last for four days after the Conference, but you don't need to stay for the entire time. Stay for as long as you like, whether that's for a few hours or a few days.
After you get home, make sure to check out the YouTube videos of talks you missed or made a note to watch again. There's also all of the tutorials, keynote speaker talks, and even the lightning talks to check out. There's plenty there for you to get your PyCon fix throughout the year.
The greatest thing about PyCon is the feeling of belonging to a community. That's only made possible by the great people who give back to the Python community, and you can become one of them!
There are lots of ways that you can give back to this great community:
Contribute to an open source project that uses Python.
Join a local Python meetup group. Don't have one? Create one!
Share with others what you've learned.
Submit a talk or poster for next year's PyCon.
Finally, you can start preparing for the next PyCon. When you purchase tickets early, you get a discount on the pricing, but those tickets go pretty fast too. You can also start taking note of any problems or questions that you can't find the answer to in preparation for selecting talks to check out at the next PyCon.
Recap:
Here's what you need to know about what to do after the conference:
If you have the time, stay for the Sprints.
Check out the YouTube videos of the talks you missed or loved.
Look for a way to contribute back to the Python community with what you learned.
Start looking at next year's PyCon.
Welcome to the Greatest Community!
Congratulation! You're about to attend one of the greatest technical conferences there is out there.
In this article, you learned:
What PyCon is all about
What you can do before coming to PyCon
What you can do at PyCon
What you can do after PyCon
With the tips in this article, you'll be able to have a great PyCon. We look forward to seeing you there!