Throughout this tutorial, you'll learn how to use Django and GeoDjango to build a location-based web application from scratch. You'll be building a simple nearby shops application that lists the shops closest to a user's location.
By the end of this tutorial, you'll be able to:
Use Django to build a simple web application from scratch

Use the GeoDjango sub-framework to implement geolocation features in your Django application

Use a spatial database (PostgreSQL and PostGIS) to get benefits from the spatial features and easily implement location-aware web apps
The Tools You Will Be Using
You'll be using the following tools to develop your nearby shops web application:
The Python programming language
The Django web framework
The PostgreSQL database for persisting data
The PostGIS extension for supporting spatial features in the PostgreSQL database
pip for installing dependencies
The venv module for managing a virtual environment
Docker for installing PostgreSQL and PostGIS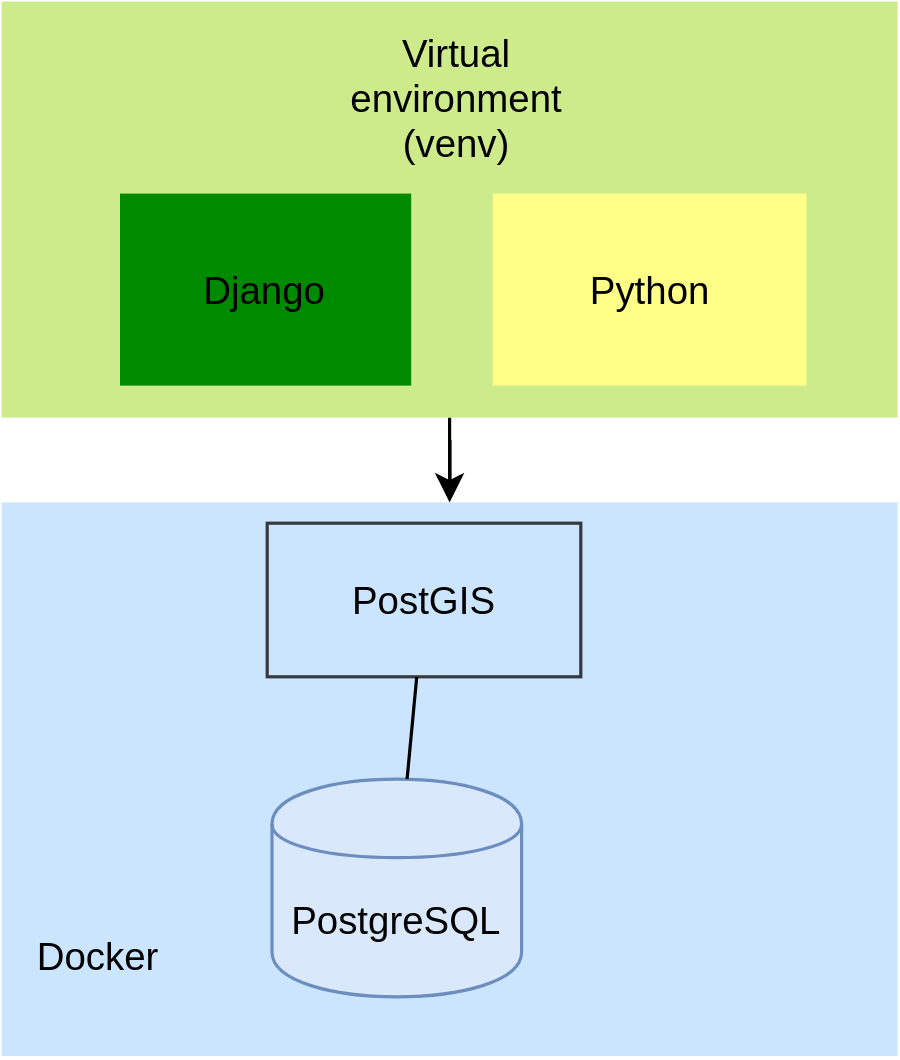 Before diving into practical steps, let's first start by introducing the frameworks you'll be using.
Django is the most popular Python framework for building web apps. It makes it easy for developers to quickly build prototypes and meet their project deadlines by providing a plethora of built-in APIs and sub-frameworks such as GeoDjango.
GeoDjango is a built-in application that is included as a contrib module in Django. It's actually a complete framework itself that can also be used separately from Django. It provides a toolbox of utilities for building GIS web applications.
GIS stands for Geographic Information System. It's an information system (an organized system for the collection, organization, storage, and communication of information) designed for processing and manipulating data that have geographic or spatial characteristics.
GeoDjango also provides Python bindings to popular spatial libraries such as GEOS, GDAL, and GeoIP, which can be used separately without Django in any Python application or interactively in the shell.
GeoDjango aims to provide a world-class geographic web framework. It has been refactored over the years with the goal of making it easier to work with geospatial data, in other words data that identifies the geographic location of natural or artificial features on Earth and is stored as coordinates and topologies.
GeoDjango integrates very well with the Django ORM and provides a set of geometry fields defined by the Open Geospatial Consortium (OGS) that can be used to map to different types of geometries in geospatial databases:
GeoDjango is a very powerful framework for storing and working with geographic data using the Django ORM. It provides an easy-to-use API to find the distances between two points on a map, areas of polygons, the points within a polygon, and so on.
To be able to work with GeoDjango, you'll need to have two things: a spatial database and geospatial libraries. A spatial database is a database that is optimized for storing and querying data that represents objects defined in a geometric space.
To fully use all features of GeoDjango, you'll need to install the following open-source geospatial libraries:
GEOS stands for Geometry Engine Open Source. It's a C++ port of the JTS (Java Topology Suite) that implements the OCG Simple Feature for SQL specification.

GDAL stands for Geospatial Data Abstraction Library. It's an open-source library for working with raster and vector geospatial data formats.

PROJ.4 is for Cartographic Projections library. It's an open-source GIS library for easily working with spatial reference systems and projections.

GeoIP is a library that helps users find geographical information based on an IP address.
This tutorial makes use of an Ubuntu 18.04 system for installing prerequisites and a Unix bash for running the commands, but this shouldn't be a problem for you if you're using any other system, particularly Unix-based systems like macOS.
For most installation instructions, you'll be using the aptitude package manager, so you should simply replace that with the equivalent package manager for your system.
Prerequisites
In this section, you'll be installing the prerequisites needed before you can bootstrap your project, such as Python 3 and GeoDjango dependencies (GEOS, GDAL, and PROJ.4). You'll also use Docker to set up a PostgreSQL and PostGIS database for your project.
Installing Python 3
There is a big chance that you already have Python 3 installed on your system. If you don't, you can simply head to the official website and download the binaries for your operating system.
Depending on your system, you may also be able to install Python 3 or upgrade it to the latest version if it's already installed by using the official package manager.
If you have a problem installing Python 3 or want more information, you can check the Python 3 Installation & Setup Guide, which provides different ways to install Python 3 on your system.
Finally, you can check if you have Python 3 installed by running the following command:
$ 

python3 --version


Python 3.6.5



Installing GeoDjango Dependencies (GEOS, GDAL, and PROJ.4)
GeoDjango requires a spatial database and a set of open-source geospatial libraries:
GEOS is an open-source geometry engine and a C++ port of the JTS (Java Topology Suite). It's required by GeoDjango for performing geometric operations.

PROJ.4 is an open-source GIS library for easily working with spatial reference systems and projections. You need it because you'll be using PostGIS as the spatial database.

GDAL is an open-source geospatial data abstraction library for working with raster and vector data formats. It's needed for many utilities used by GeoDjango.
You can refer to the docs for more information about spatial databases and the required libraries.
GDAL 2.2 is included in Ubuntu 18.04 so you can simply run the following command to install it:
$ 

sudo aptitude install gdal-bin libgdal-dev


$ 

sudo aptitude install python3-gdal

Note: python3-gdal is the Python 3 binding for GDAL.
Next, you can install the other libraries using the following:
$ 

sudo aptitude install binutils libproj-dev

Note: Since you're using a binary package for GEOS, you also need to install binutils.
Refer to the docs for detailed instructions about how to install these dependencies on macOS and Windows.
For more information about PROJ.4, you can refer to its official docs.
Setting up a Spatial Database With PostgreSQL and PostGIS
You'll use PostgreSQL, the most commonly used database with Django. It's not a spatial database, but thanks to PostGIS you can power up your database with powerful geospatial features.
PostGIS is a spatial database extension that needs to be installed on a PostgreSQL database, which gives it the capability to store and work with spatial data and perform spatial operations. It adds support for geographic objects allowing location queries to be run in SQL.
You can either install PostgreSQL on your system, create a database, and then add the PostGIS extension, or better yet use Docker to quickly create a database using the kartoza postgis image, which provides a container with PostgreSQL and PostGIS already installed:
$ 

docker run --name

=

postgis -d -e 

POSTGRES_USER

=

user001 -e 

POSTGRES_PASS

=

123456789

 -e 

POSTGRES_DBNAME

=

gis -p 

5432

:5432 kartoza/postgis:9.6-2.4

After running the command, you'll have a PostgreSQL server listening on the 5432 port with a database called gis. The database uses the user001 username and the 123456789 password.
Note: You need to have Docker installed on your system. For instructions, you can simply refer to the official docs.
Setting up Your Project
Now that you have a spatial database set up and ready, you can go ahead and setup your Django project. In this section, you'll use venv to create an isolated virtual environment for your project and install all the required packages such as Django.
Creating a Django Application
A Django project is made up of applications. By default, it contains several core or built-in apps like django.contrib.admin, but you will usually add at least one app that contains your custom project's code.
Note: For simple projects, you may only need one app, but once your project becomes bigger and has different requirements, you can organize your code in multiple separate apps.
Now that you have created a Django project, configured the connection with the spatial database, and added GeoDjango to the project, you need to create a Django application that you may call shops.
The shops application will contain the code for creating and displaying the shops closest to a user's location. In the next steps, you are going to perform the following tasks:
Create the app
Add a Shop model
Add a data migration for loading initial demo data (shops)
Add a view function
Add a template
First run the following command to create the app:
$ 

python manage.py startapp shops

Next, you need to add it to the list of installed apps in the settings.py file, which will make Django recognize it as a part of your project:
INSTALLED_APPS

 

=

 

[


    

# [...]


    

'shops'




]



Wrap-Up
Congratulations on creating your location based web application using GeoDjango, which aims to become a world-class geographic framework for implementing GIS apps. You now have the basic skills that you can use to either add simple geolocation stuff to your applications or create GIS apps. You can read the GeoDjango docs for a complete resource of the available APIs and what you can do with them.
You also learned to use Docker to quickly pull and launch a PostgreSQL and PostGIS server. Docker can be used for more than that. It's a containerization tool for spinning up isolated, reproducible application environments. You can read Django Development with Docker Compose and Machine if you want to learn how to containerize your Django project.
Nowadays, location aware apps (apps that know your location and help you discover nearby objects and services by offering you results based on your location) are all the rage. Using the knowledge you gained in this tutorial, you'll be able to incorporate this modern feature in your apps developed with Django.
The only requirement, besides the dependencies of GeoDjango, is to use a spatial database (a database that's capable of storing and manipulating spatial data). For PostgreSQL, one of the most popular database management systems used with Django, you can simply install the PostGIS extension with your database to turn it into a spatial database. Other popular databases like Oracle and MySQL have built-in support for spatial data.
Conclusion
Throughout this tutorial, you used PostgreSQL, PostGIS, Django, and GeoDjango to build a simple nearby shops web application.
In the next tutorial, you'll continue building the application with Django REST framework to expose a RESTful API, and you'll use the JavaScript Vue.js library with the Axios HTTP client to consume the API and render the data.
You'll also use the HTML5 Geolocation API to automatically get the user's location from the user's browser instead of hard-coding it like you did in this tutorial, so stay tuned!