PyCon Africa was a wonderful, inspiring, and technically enlightening conference that took place in Accra, Ghana from August 6 to 10, 2019 at the University of Ghana. This conference was the very first pan-African conference for Python developers and was attended by 323 Pythonistas from 26 different countries. Most of the attendees traveled from countries around Africa, and a number of speakers came from the US, the Netherlands, Germany, Brazil, and Italy.
Python is becoming more and more adopted all across the globe. In Africa, Python is earning a special place for itself, where it's used extensively for web development and data science. African businesses are looking for developers with Python skills in these areas, and having a PyCon in Africa provides a foundation to help support African programmers.
Free Bonus: 5 Thoughts On Python Mastery, a free course for Python developers that shows you the roadmap and the mindset you'll need to take your Python skills to the next level.
What Happened at PyCon Africa
On the day before the main conference started, attendees took some time to settle in. Those who were just getting started with Python attended a Beginners Day Session led by Joey Darko to help them set up their computers for Python development. I joined another group of international travelers on a tour of Accra, Ghana. We visited many tourist sites such as the Independence Square, the cultural center, and some of the local markets to get a feel for the Ghanaian way of life.
The following day was dedicated to workshops, with two running concurrently in both the morning and afternoon sessions. The Django Girls workshop introduced women and Django beginners to Django development. Other workshops were focused on concepts like data visualization, testing, and iterators.
Main Conference
The main conference started on August 8 and kicked off with an opening ceremony that featured traditional Ghanaian dance and welcoming remarks from Marlene Mhangami, the Python Africa Chair. Each day of the conference had an opening and closing keynote talk.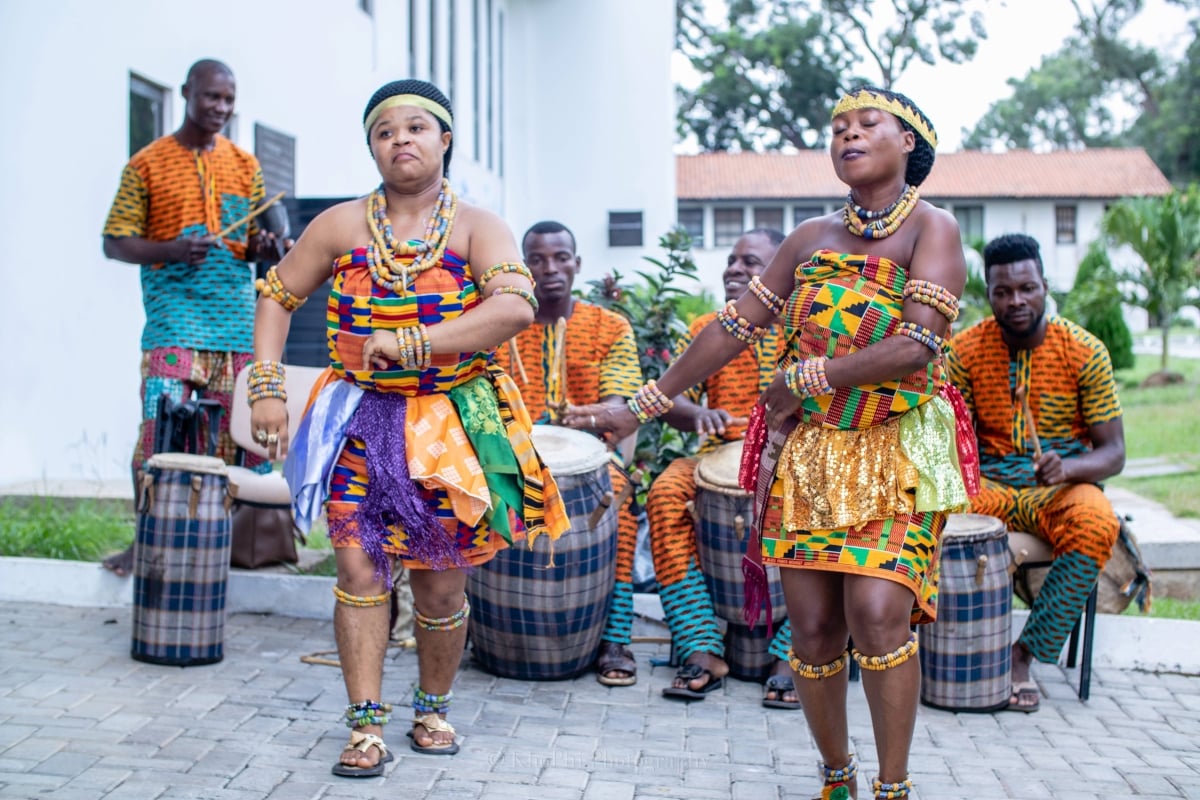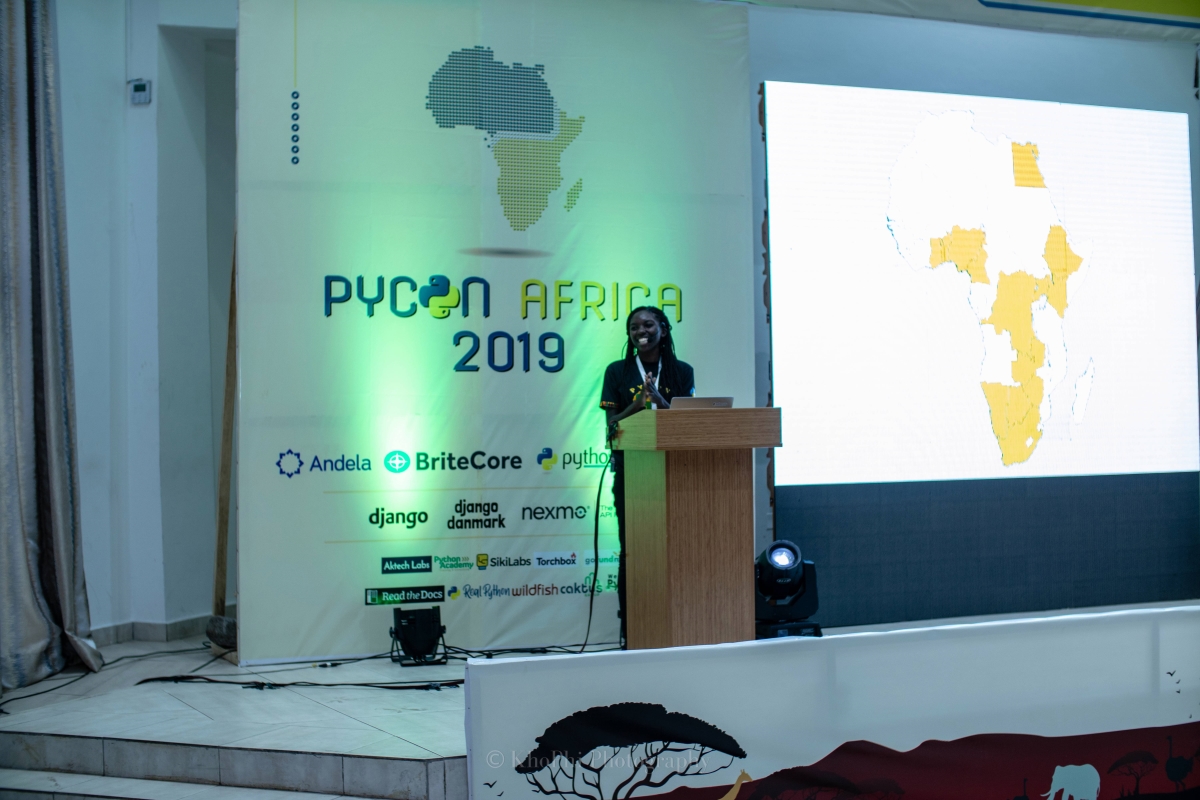 Let's take a look at some of the talks that were given over the two days of the conference.
Moustapha Cisse: The Potential for Positive Impact Through AI
Moustapha Cisse is the head of Google's AI Center in Accra and he gave the opening keynote on the first day of the main conference. Moustapha's talk was about how African technologists can use technology to solve African problems. In his talk, he discussed some of the work he's involved in at Google and in the AI space, like using Artificial Intelligence for disease prediction, and satellite images to gather information and statistics for AI-enabled flood forecasting.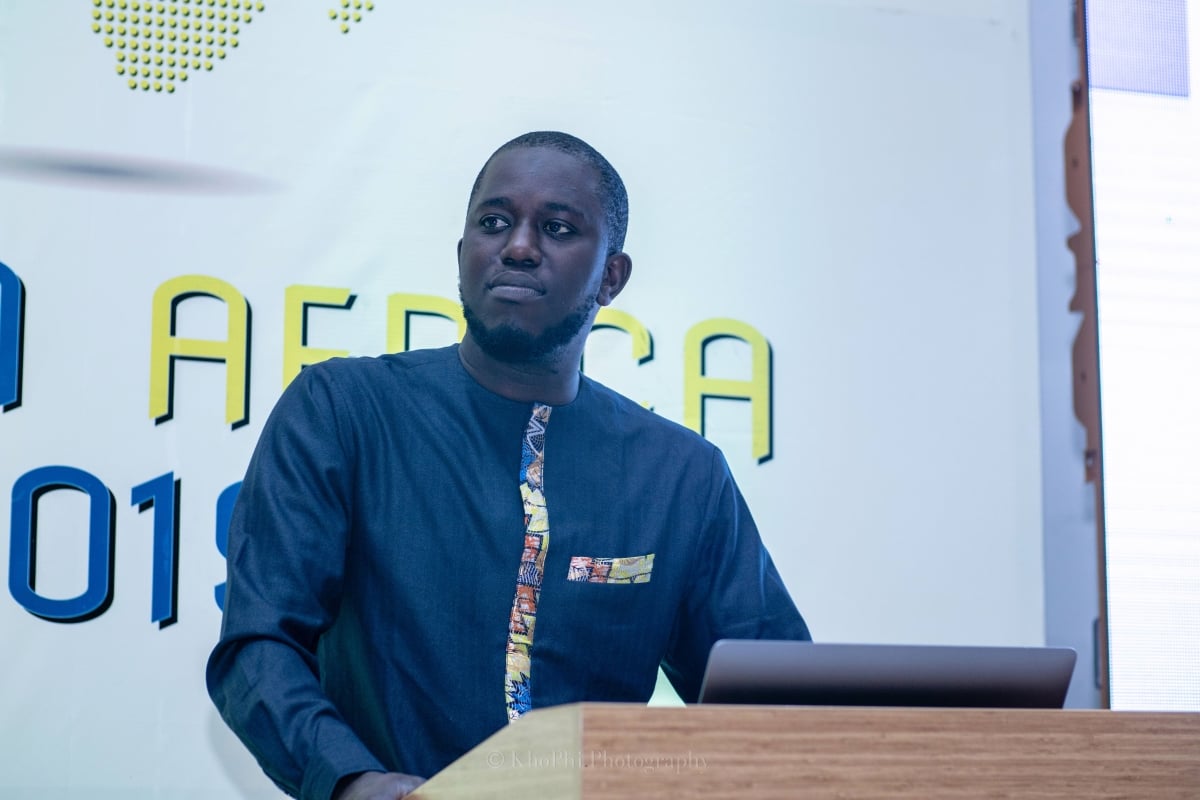 Meili Triantafyllidi: Lessons Learned From 6 Years in PyLadies Berlin
Meili Triantafyllidi is the co-founder of PyLadies Berlin. There are a number of PyLadies and women-focused Python user groups around Africa. These groups are doing a lot of amazing work, but like anything in life, there's always room for improvement.
Meili Triantafyllidi gave a timely talk on the lessons she learned from six years of running PyLadies Berlin. In her talk, she shared tips and best practices for making events more inclusive, accessible, and safe. Her talk also covered information on how to run events, get the right speakers, and improve public speaking skills.
A PyLadies meeting was held after Meili's talk. The meeting established a common purpose and plans to support female programmers in Africa, including through the creation of a dedicated PyLadies Africa channel in the PyLadies Slack group.
Candy Tricia Khohliwe: Web Virtual Reality and A-Frame
Candy Khohliwe, a Mozilla Tech Speaker, gave a talk about WebVR, an open technology that allows you to experience virtual reality in your browser no matter what device you use. The focus of Candy's talk was A-Frame, a web framework for creating 3D and WebVR experiences using HTML. From this informative talk, I learned how to use A-Frame to create and draw WebVR components. I look forward to trying it out in future projects!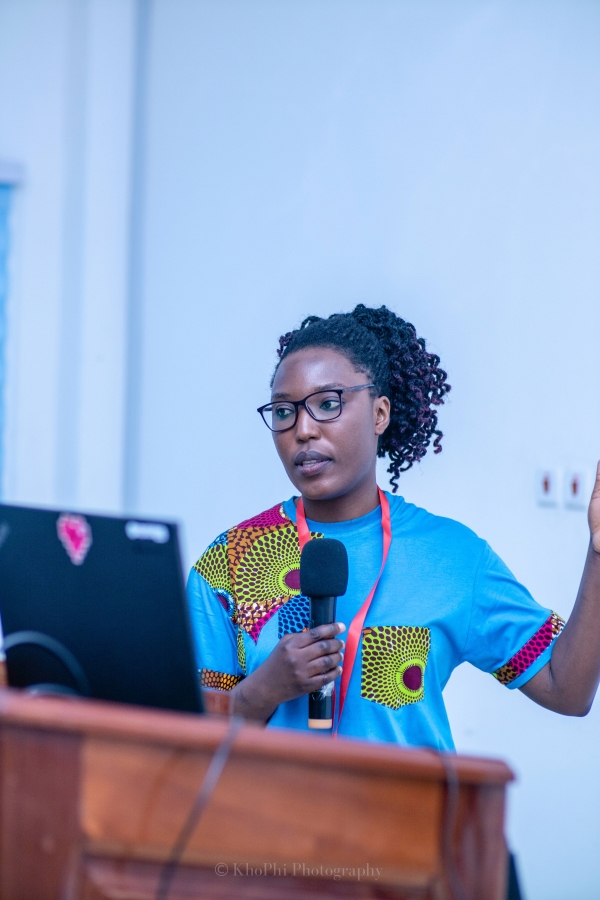 Nicholas Del Grosso: Unravelling the Spaghetti (Tips for Refactoring Your Code)
Nick Del Grosso gave a talk on refactoring code. He explained how project code can get messy and took us through the process of refactoring it safely. He also discussed strategies for identifying dead code, choosing good variable names, and using tools to help refactor code.
Jessica Upani: Is This Python Thing Really Working?
Jessica Upani from the Namibian Python community gave an enlightening talk about the different Python community groups in Namibia. She discussed the challenges they overcame and what lessons other African Python communities can learn from them.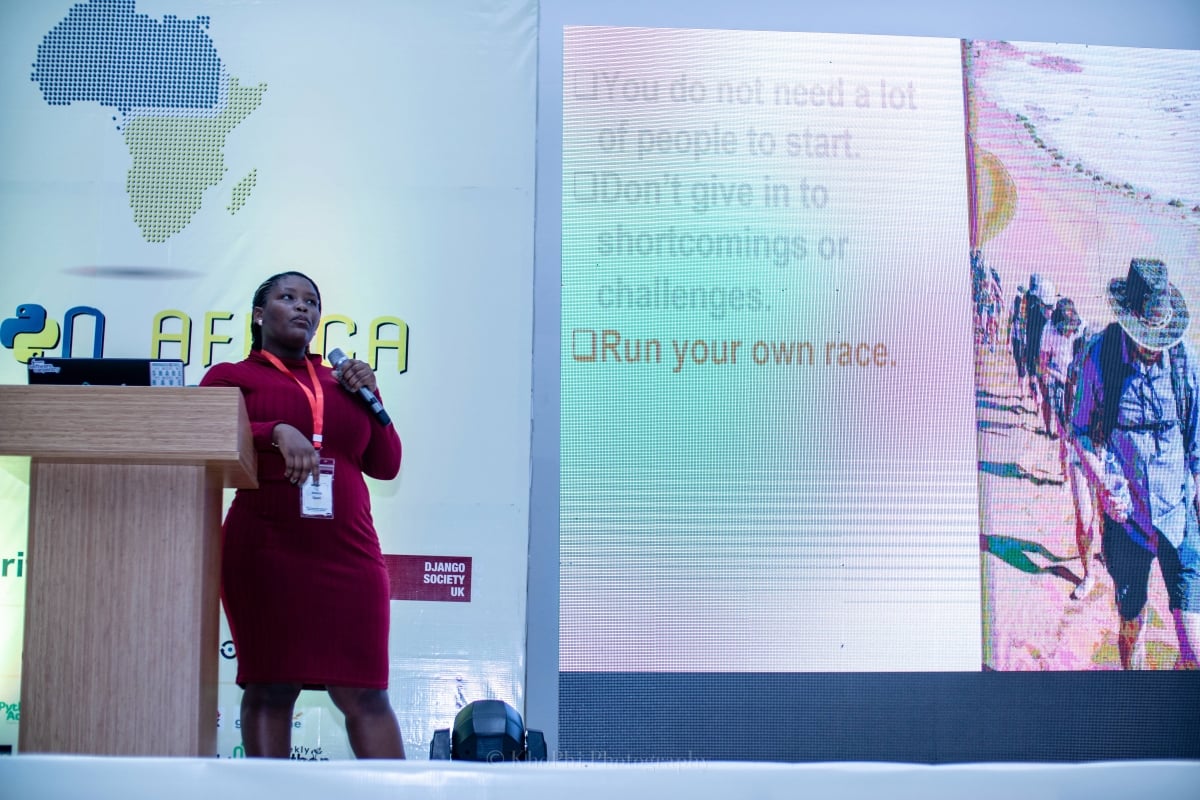 Kelvin Oyana: Bridging the Talent Gap Between Python Communities and Industry
Kelvin's talk was about the divide between what companies expect from developers and what developers can actually do. He also offered insight into how this gap can be bridged, both by communities and individual developers.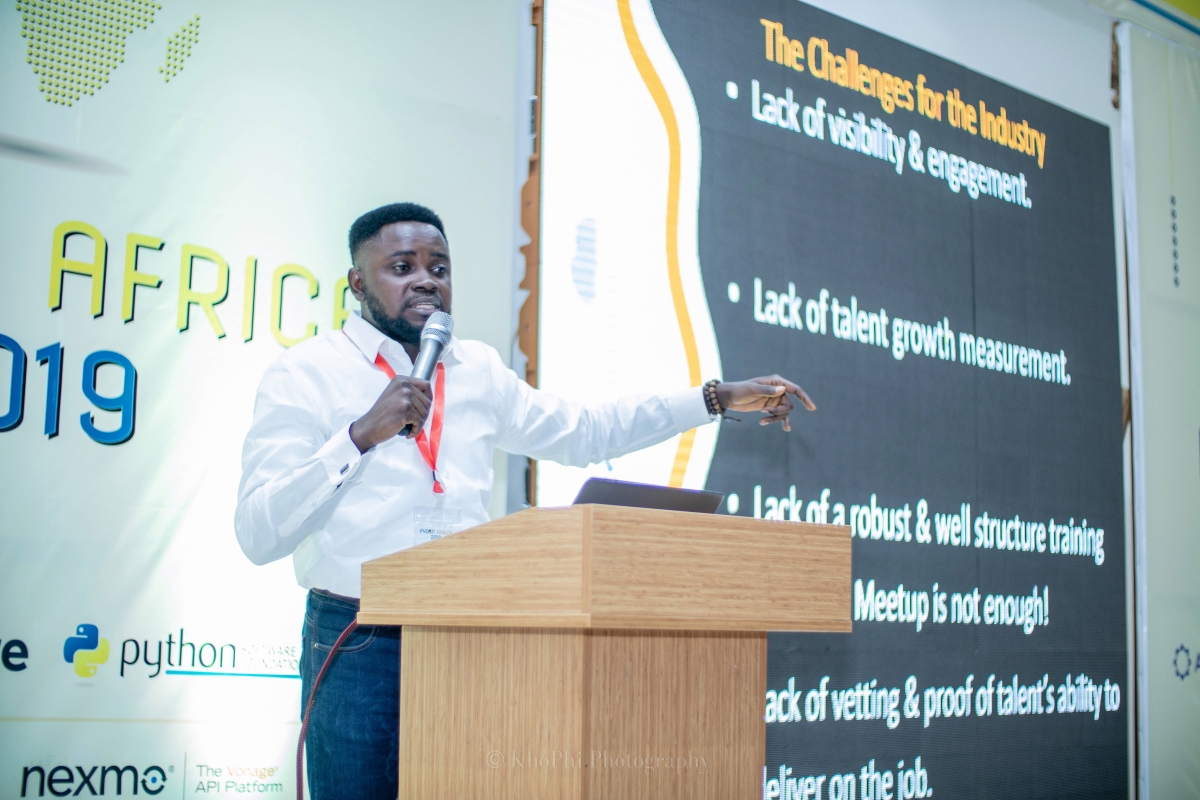 Daniele Procida: The World's Simplest, Cheapest Plotter
Daniele Procida is a Django core developer and one of the members of the PyCon Africa organizing team. In his talk, Daniele presented an interesting project: a simple pen plotter he built using cardboard, a Rasberry Pi, some servo motors, and Python software. His project embodies the spirit of resourcefulness and innovation that characterizes African enterprise.
Ewa Jodlowska: Keynote
Ewa Jodlowska, the Executive Director of the Python Software Foundation (PSF), gave a keynote talk about the PSF, how it works with the global community, and its plans for the future. Ewa shed more light on the different programs the PSF runs to foster the growth of the Python community, such as the Sponsorship Program and the Python Ambassador Program in South America.
Anna Makarudze: What the African Developer Can Do to Increase Diversity in Tech
Anna Makarudze gave the closing keynote on the first day of the main conference. She's a Software Engineer at BriteCore (one of the diamond sponsors of PyCon Africa), the Vice President of the Django Software Foundation, and the Fundraising Coordinator for the Django Girls Foundation. Anna drew on her experiences in these organizations to discuss how conferences, organizations, and individual developers can increase diversity figures in tech.
Panel Discussion: The Role of the African Python Developer in the Community
There was a panel discussion of leaders in business, technology, and community development. Marlene Manghami moderated the discussion on the role of the African Python community in the global tech space. Her panelists were Solomon Apenya, Daniel Roy Greenfeld, and James Yankah.
Solomon Apenya is a Senior Consultant at Andela, a company that finds and builds distributed engineering teams in Africa. Daniel Roy Greenfeld is co-author of Two Scoops of Django and VP of Implementation Engineering at BriteCore. James Yankah is the Managing Director of Brompton Group, a group of companies that offer recruitment, training, management, logistics, and security services.
Anthony Shaw: Standing Out in a World of 20 Million Developers
On the last day of the conference, I had the pleasure of meeting and listening to Anthony Shaw, a fellow Real Python author. Anthony gave a talk targeted at new developers to help them succeed in their development careers. In the talk, Anthony discussed ways to get ahead, grow your skill set, learn new technologies, and fight doubt and impostor syndrome. He concluded with tips on how to nail technical interviews.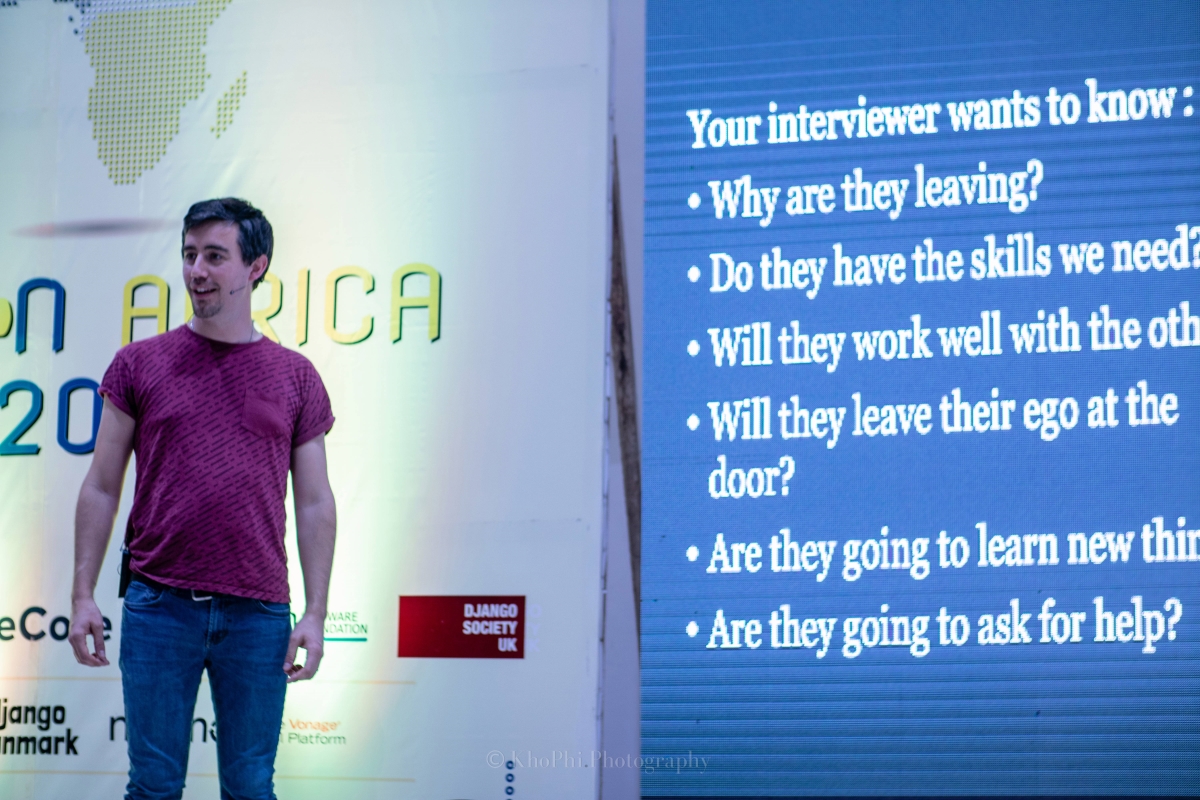 Closing Keynote: Kojo Idrissa
The closing keynote on the last day of the conference was given by Kojo Idrissa, an organizer for DjangoCon and a Django Events Foundation North America (DEFNA) Ambassador. Kojo reflected on lessons from the past and how the African diaspora has had an effect on us all.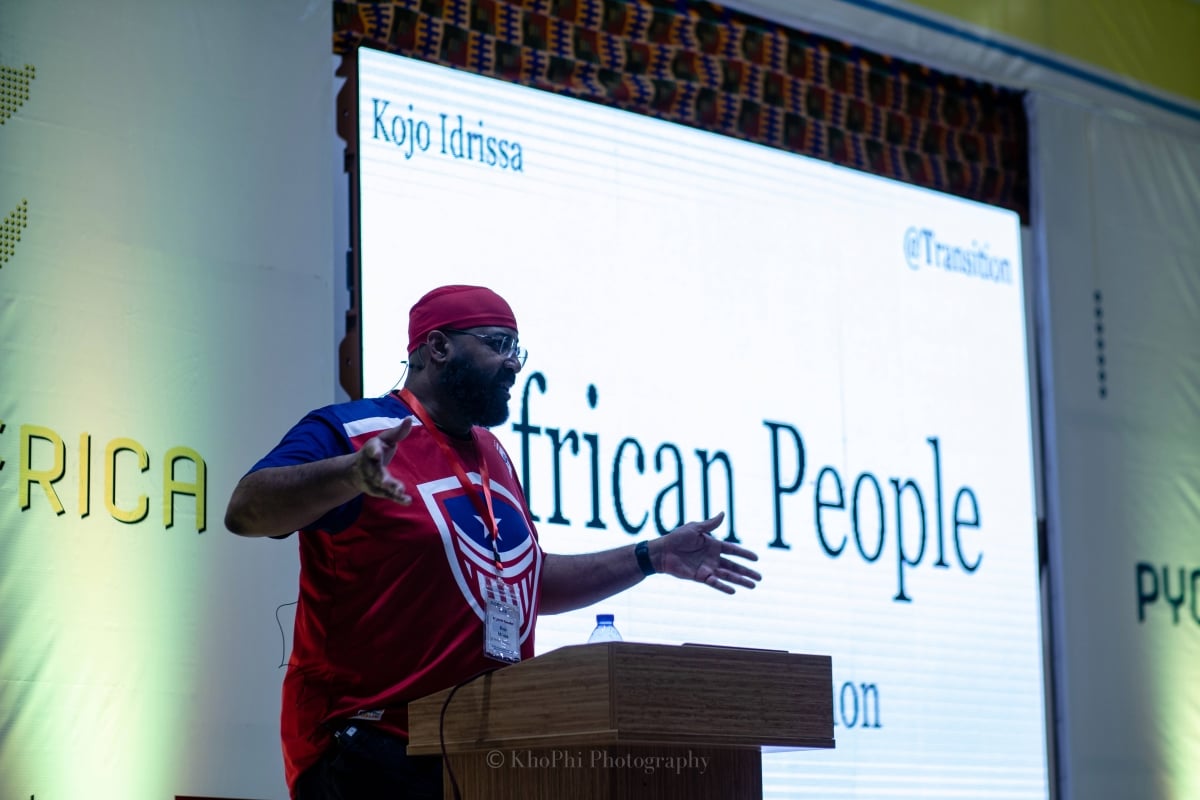 Sprints Day
The day after the main conference was dedicated to sprints! This is where people group up to work on various open source Python projects. I was part of a team that worked on Cookie Cutter and other related projects. I submitted a PR that got merged into the project and I also helped mentor other team members.
I highly recommend anyone who has not attended a sprint before to do so! It's a great way to practice your skills, contribute to an open source project, and meet the developers involved with the project.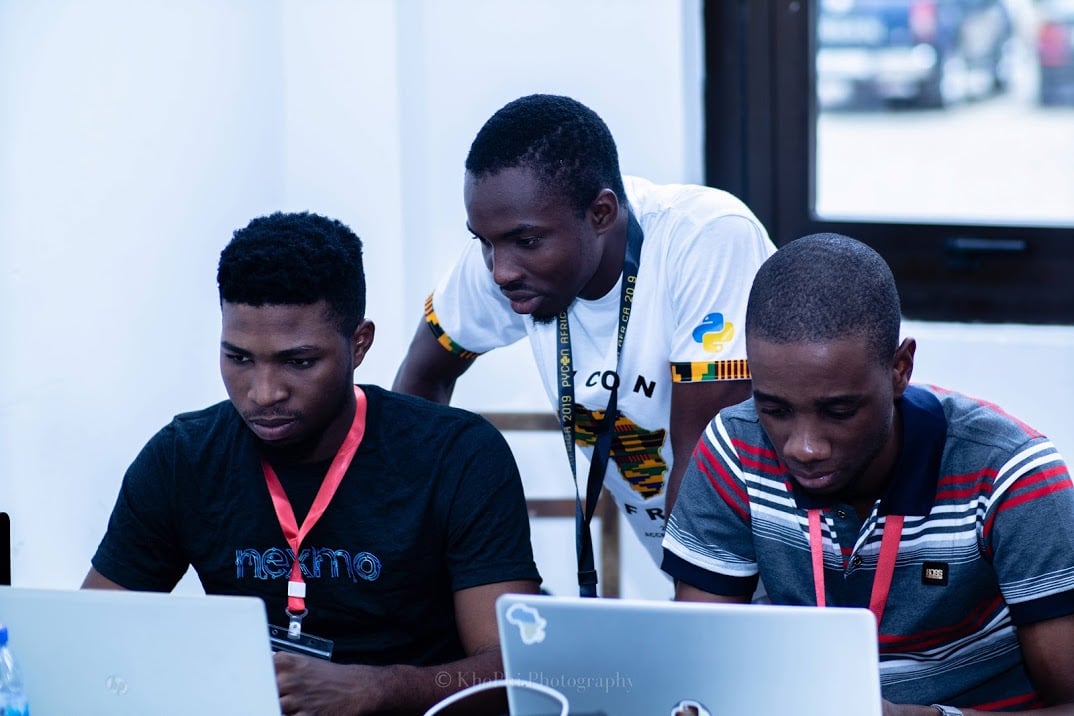 Summary
PyCon Africa was a huge success and nothing short of fantastic! It was a good start for the African community because it brought together, for the first time, Python developers from the different African Python communities. It also allowed us to hear from representatives of the PSF about how the Python community is organized and funded. For many, this was the first time that people from the different communities met in person after years of online collaboration.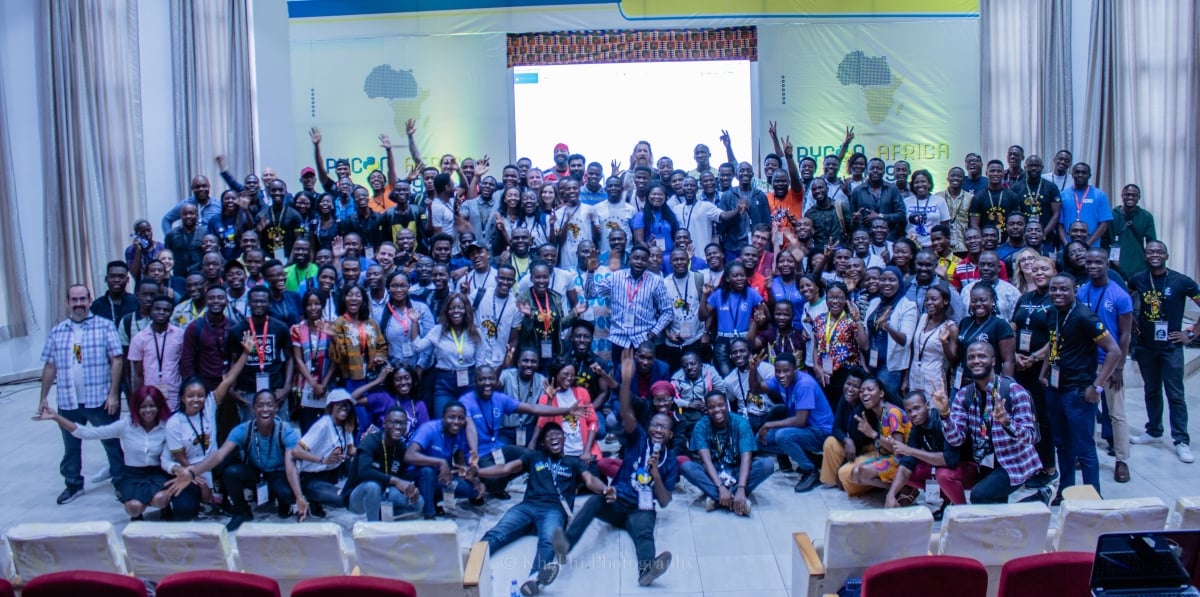 For me, the experience was worth the sacrifice and expense because I got to meet and talk to people from all over the world and learn about how they use Python in their work or studies. I gave a lightning talk on how to send desktop notifications from Python scripts using Python and other tools native to Linux.
Another highlight of attending PyCon Africa was that I got to meet many of our readers, and a number of them attributed their success to much of the content they read here on Real Python. Anthony Shaw and I also gave away many Real Python stickers. Here's a photo we took with Edison, a friend and Real Python reader: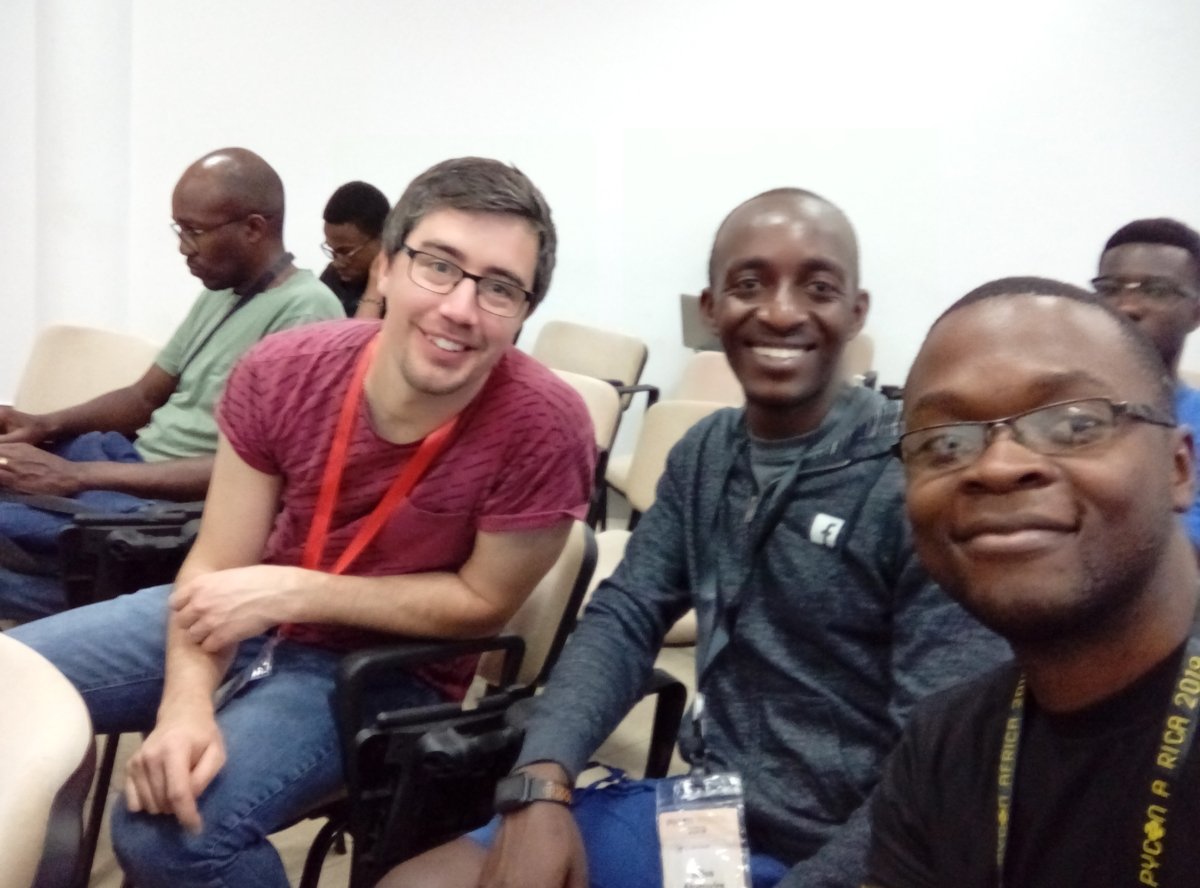 One problem that the organizers faced was making the conference affordable to as many people as possible. Travel within Africa is expensive and difficult for many Africans. For instance, an entry visa to Ghana alone costs $100 to $200 U.S. dollars. Add to that the cost of travel and lodging, and the event was out of reach for many people who were interested in attending.
Voluntary donations from individuals and corporate sponsorship from Real Python, BriteCore, Andela, and several other sponsors helped cover the cost of tickets, accommodation, and travel for those that needed it. If you'd like to get more African people involved in Python, then consider supporting future Python events in Africa and hiring African developers to work remotely in your teams.
At the time of this writing, videos from the conference have not been made available, but there is a highlight video that also features interviews with some of the attendees. You can also read the official report from the conference organizers. If you're thinking of attending a PyCon near you, then check out How to Get the Most Out of PyCon.