It has come to my attention that somebody 'round these parts has been preaching the gospel of Sublime Text 3. As the resident senior developer (err, old fogey), I feel it's my duty to tell you about the only TRUE Python development environment you will ever need: VIM.
That's right. VIM is ubiquitous and fast, and it never crashes. It can also do just about anything!
On the down side though, VIM can be a pain to configure, but fear not. This article will show you how to get a powerful VIM environment set up in a way that is geared towards wrangling Python day in and day out.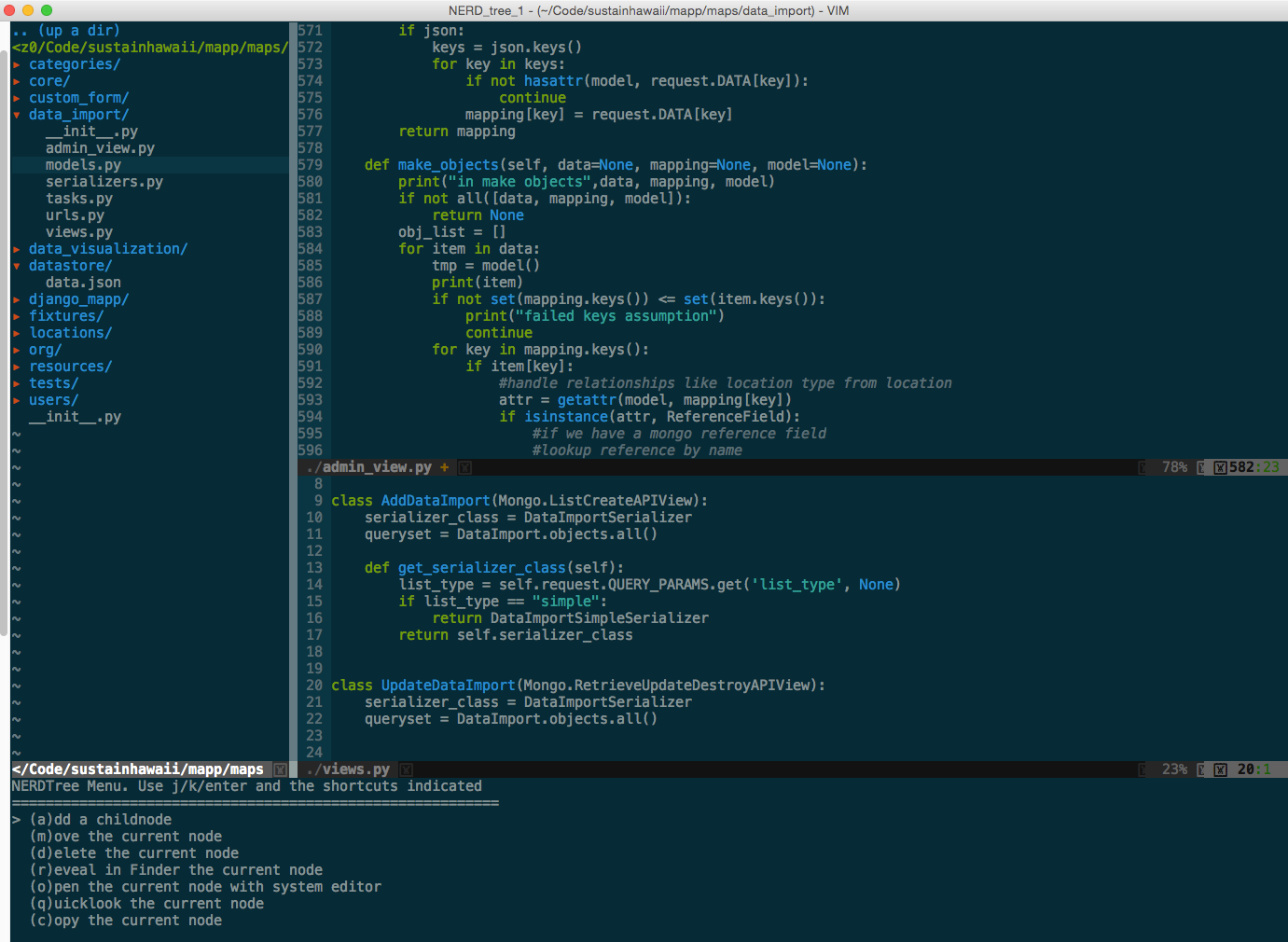 Note: To get the most out of this article, you should have at least a basic understanding of how to use VIM and its command modes. If you're just getting started, check out this resource or this one. You'll want to spend some time with VIM and get the basics down before moving on.
Updated 2018-06-01
Installing
Since VIM comes pre-installed on a number of *nix systems, let's first check to see if it's installed:
If it is installed, you should see something like:
VIM - Vi IMproved 7.3 (2010 Aug 15, compiled Nov  5 2014 21:00:28)




Compiled by root@apple.com




Normal version without GUI.  Features included (+) or not (-):




-arabic +autocmd -balloon_eval -browse +builtin_terms +byte_offset +cindent




-clientserver -clipboard +cmdline_compl +cmdline_hist +cmdline_info +comments




-conceal +cryptv +cscope +cursorbind +cursorshape +dialog_con +diff +digraphs




-dnd -ebcdic -emacs_tags +eval +ex_extra +extra_search -farsi +file_in_path




+find_in_path +float +folding -footer +fork() -gettext -hangul_input +iconv




+insert_expand +jumplist -keymap -langmap +libcall +linebreak +lispindent




+listcmds +localmap -lua +menu +mksession +modify_fname +mouse -mouseshape




-mouse_dec -mouse_gpm -mouse_jsbterm -mouse_netterm -mouse_sysmouse




+mouse_xterm +multi_byte +multi_lang -mzscheme +netbeans_intg -osfiletype




+path_extra -perl +persistent_undo +postscript +printer -profile +python/dyn




-python3 +quickfix +reltime -rightleft +ruby/dyn +scrollbind +signs




+smartindent -sniff +startuptime +statusline -sun_workshop +syntax +tag_binary




+tag_old_static -tag_any_white -tcl +terminfo +termresponse +textobjects +title




 -toolbar +user_commands +vertsplit +virtualedit +visual +visualextra +viminfo




+vreplace +wildignore +wildmenu +windows +writebackup -X11 -xfontset -xim -xsmp




 -xterm_clipboard -xterm_save




   system vimrc file: "$VIM/vimrc"




     user vimrc file: "$HOME/.vimrc"




      user exrc file: "$HOME/.exrc"




  fall-back for $VIM: "/usr/share/vim"




Compilation: gcc -c -I. -D_FORTIFY_SOURCE=0 -Iproto -DHAVE_CONFIG_H -arch i386 -arch x86_64 -g -Os -pipe




Linking: gcc -arch i386 -arch x86_64 -o vim -lncurses



At this point, you want to check two things:
The VIM version should be higher than 7.3.
+python should show up in the list of features, so you know Python is supported.
If both of these checks pass, then move right along to VIM Extensions. If not, it's time to install/upgrade.
macOS / OS X
Grab Homebrew, if you don't already have it, and run:
$ 

brew update


$ 

brew install vim

*NIX / Linux
For Debian or Ubuntu, you can try:
$ 

sudo apt-get remove vim-tiny


$ 

sudo apt-get update


$ 

sudo apt-get install vim

For other flavors of Linux, check the docs from your package manager. Here is a link to get you started: Install Vim.
Windows
There are many different ways to install VIM on Windows. Start with the official docs.
Verifying Your VIM Install
Make sure you have installed VIM > 7.3 with Python support. Again, run vim --version to verify this. If you want to check the specific version of Python used in VIM, run :python import sys; print(sys.version) from within VIM:
2.7.6 (default, Sep  9 2014, 15:04:36)




[GCC 4.2.1 Compatible Apple LLVM 6.0 (clang-600.0.39)]



This should output your current version of Python. If you get an error, then you don't have Python support and you either need to reinstall or recompile if you're building from source.
With VIM installed, let's look at how to customize VIM for Python development.
VIM Extensions
VIM can do a lot of what developers need right out of the box. However, it is also massively extensible, and there are some pretty killer extensions that make it behave more like a "modern" IDE. The very first thing you need is a good extension manager.
Note: Extensions in VIM are often referred to as bundles or plugins.
Vundle
VIM has several extension managers, but the one I strongly recommend is Vundle. Think of it as pip for VIM. It makes installing and updating packages trivial.
Let's get Vundle installed:
$ 

git clone https://github.com/gmarik/Vundle.vim.git ~/.vim/bundle/Vundle.vim

This command downloads the Vundle plugin manager and chucks it in your VIM bundles directory. Now you can manage all your extensions from the .vimrc configuration file.
Add the file to your user's home directory:
Now set up Vundle in your .vimrc by adding the following to the top of the file:
set

 

nocompatible

              

" required




filetype

 off                  

" required





" set the runtime path to include Vundle and initialize




set

 

rtp

+=~

/.vim/

bundle/Vundle.

vim




call

 vundle#begin

()





" alternatively, pass a path where Vundle should install plugins




"call vundle#begin('~/some/path/here')





" let Vundle manage Vundle, required


Plugin 

'gmarik/Vundle.vim'





" add all your plugins here (note older versions of Vundle




" used Bundle instead of Plugin)





" ...





" All of your Plugins must be added before the following line




call

 vundle#

end

()

            

" required




filetype

 plugin indent 

on

    

" required



That's it. You're now set up to use Vundle. Afterward, you can add the plugins you want to install, then fire up VIM and run:
This command tells Vundle to work its magic—downloading all the plugins and installing/updating them for you.
Let's Make an IDE
We couldn't possibly list all the VIM features, but let's look at a quick list of some of the powerful out-of-the-box features perfect for Python development.
Conclusion
That's more or less it (for Python development, at least). There are a ton of other extensions that you can use, as well as alternatives to everything detailed in this post. What are some of your favorite extensions? How have you configured VIM to match your personality?
Here is a link to my current VIM config. Got one of your own? Please share!
Thanks for reading!
Resources
VIM Tutor comes with VIM, so once VIM is installed, just type vimtutor from the command line, and the program will teach you how to use VIM by, well, using VIM.
VIMcasts are advanced tutorial videos describing how to use many of VIM's features.
Learn Vimscript the Hard Way is perfect for learning vimscript.