Taking a Django app from development to production is a demanding but rewarding process. This tutorial will take you through that process step by step, providing an in-depth guide that starts at square one with a no-frills Django application and adds in Gunicorn, Nginx, domain registration, and security-focused HTTP headers. After going over this tutorial, you'll be better equipped to take your Django app into production and serve it to the world.
In this tutorial, you'll learn:
How you can take your Django app from development to production
How you can host your app on a real-world public domain
How to introduce Gunicorn and Nginx into the request and response chain
How HTTP headers can fortify your site's HTTPS security
To make the most out of this tutorial, you should have an introductory-level understanding of Python, Django, and the high-level mechanics of HTTP requests.
You can download the Django project used in this tutorial by following the link below:
Starting With Django and WSGIServer
You'll use Django as the framework at the core of your web app, using it for URL routing, HTML rendering, authentication, administration, and backend logic. In this tutorial, you'll supplement the Django component with two other layers, Gunicorn and Nginx, in order to serve the application scalably. But before you do that, you'll need to set up your environment and get the Django application itself up and running.
Setting Up a Cloud Virtual Machine (VM)
First, you'll need to launch and set up a virtual machine (VM) on which the web application will run. You should familiarize yourself with at least one infrastructure as a service (IaaS) cloud service provider to provision a VM. This section will walk you through the process at a high level but won't cover every step in detail.
Using a VM to serve a web app is an example of IaaS, where you have full control over the server software. Other options besides IaaS do exist:
A serverless architecture allows you to compose the Django app only and let a separate framework or cloud provider handle the infrastructure side.
A containerized approach allows multiple apps to run independently on the same host operating system.
For this tutorial, though, you'll use the tried-and-true route of serving Nginx and Django directly on IaaS.
Two popular options for virtual machines are Azure VMs and Amazon EC2. To get more help with launching the instance, you should refer to the documentation for your cloud provider:
The Django project and everything else involved in this tutorial sit on a t2.micro Amazon EC2 instance running Ubuntu Server 20.04.
One important component of VM setup is inbound security rules. These are fine-grained rules that control the inbound traffic to your instance. Create the following inbound security rules for initial development, which you'll modify in production:
| Reference | Type | Protocol | Port Range | Source |
| --- | --- | --- | --- | --- |
| 1 | Custom | TCP | 8000 | my-laptop-ip-address/32 |
| 2 | Custom | All | All | security-group-id |
| 3 | SSH | TCP | 22 | my-laptop-ip-address/32 |
Now you'll walk through these one at a time:
Rule 1 allows TCP over port 8000 from your personal computer's IPv4 address, allowing you to send requests to your Django app when you serve it in development over port 8000.
Rule 2 allows inbound traffic from network interfaces and instances that are assigned to the same security group, using the security group ID as the source. This is a rule included in the default AWS security group that you should tie to your instance.
Rule 3 allows you to access your VM via SSH from your personal computer.
You'll also want to add an outbound rule to allow outbound traffic to do things such as install packages:
| Type | Protocol | Port Range | Source |
| --- | --- | --- | --- |
| Custom | All | All | 0.0.0.0/0 |
Tying that all together, your initial AWS security rule set can consist of three inbound rules and one outbound rule. These, in turn, come from three separate security groups—the default group, a group for HTTP access, and a group for SSH access: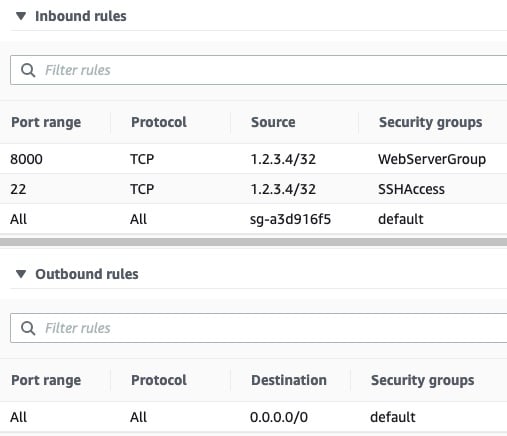 From your local computer, you can then SSH into the instance:
$ 

ssh -i ~/.ssh/<privkey>.pem ubuntu@<instance-public-ip-address>

This command logs you in to your VM as the user ubuntu. Here, ~/.ssh/<privkey>.pem is the path to the private key that's part of the set of security credentials that you tied to the VM. The VM is where the Django application code will sit.
With that, you should be all ready to move forward with building your application.
Using Django's WSGIServer in Development
In this section, you'll test Django's development web server using httpie, an awesome command-line HTTP client for testing requests to your web app from the console:
$ 

pwd




/home/ubuntu




$ 

source

 env/bin/activate


$ 

python -m pip install httpie

You can create an alias that will let you send a GET request using httpie to your application:
$ 

# Send GET request and follow 30x Location redirects




$ 

alias

 

GET

=

'http --follow --timeout 6'



This aliases GET to an http call with some default flags. You can now use GET docs.python.org to see the response headers and body from the Python documentation's homepage.
Before starting the Django development server, you can check your Django project for potential problems:
$ 

cd

 django-gunicorn-nginx/


$ 

python manage.py check


System check identified no issues (0 silenced).



If your check doesn't identify any issues, then tell Django's built-in application server to start listening on localhost, using the default port of 8000:
$ 

# Listen on 127.0.0.1:8000 in the background




$ 

nohup python manage.py runserver 

&




$ 

jobs

 -l


[1]+ 43689 Running                 nohup python manage.py runserver &



Using nohup <command> & executes command in the background so that you can continue to use your shell. You can use jobs -l to see the process identifier (PID), which will let you bring the process to the foreground or terminate it. nohup will redirect standard output (stdout) and standard error (stderr) to the file nohup.out.
Note: If it appears that nohup hangs and leaves you without a cursor, press Enter to get your terminal cursor and shell prompt back.
Django's runserver command, in turn, uses the following syntax:
$ 

python manage.py runserver 

[

address:port

]



If you leave the address:port argument unspecified as done above, Django will default to listening on localhost:8000. You can also use the lsof command to verify more directly that a python command was invoked to listen on port 8000:
$ 

sudo lsof -n -P -i TCP:8000 -s TCP:LISTEN


COMMAND   PID   USER   FD   TYPE DEVICE SIZE/OFF NODE NAME




python  43689 ubuntu    4u  IPv4  45944      0t0  TCP 127.0.0.1:8000 (LISTEN)



At this point in the tutorial, your app is only listening on localhost, which is the address 127.0.0.1. It's not yet accessible from a browser, but you can still give it its first visitor by sending it a GET request from the command line within the VM itself:
$ 

GET :8000/myapp/


HTTP

/

1.1

 

200

 

OK




Content-Length

:

 

182




Content-Type

:

 

text/html; charset=utf-8




Date

:

 

Sat, 25 Sep 2021 00:11:38 GMT




Referrer-Policy

:

 

same-origin




Server

:

 

WSGIServer/0.2 CPython/3.8.10




X-Content-Type-Options

:

 

nosniff




X-Frame-Options

:

 

DENY





<!DOCTYPE

 

html

>




<

html

 

lang

=

"en-US"

>


  

<

head

>


    

<

meta

 

charset

=

"utf-8"

>


    

<

title

>

My secure app

</

title

>


  

</

head

>


  

<

body

>


    

<

p

>

Now this is some sweet HTML!

</

p

>


  

</

body

>




</

html

>



The header Server: WSGIServer/0.2 CPython/3.8.10 describes the software that generated the response. In this case, it's version 0.2 of WSGIServer alongside CPython 3.8.10.
WSGIServer is nothing more than a Python class defined by Django that implements the Python WSGI protocol. What this means is that it adheres to the Web Server Gateway Interface (WSGI), which is a standard that defines a way for web server software and web applications to interact.
In our example so far, the django-gunicorn-nginx/ project is the web application. Since you're serving the app in development, there's actually no separate web server. Django uses the simple_server module, which implements a lightweight HTTP server, and fuses the concept of web server versus application server into one command, runserver.
Next, you'll see how to begin introducing your app to the big time by associating it with a real-world domain.
Putting Your Site Online With Django, Gunicorn, and Nginx
At this point, your site is accessible locally on your VM. If you want your site to be accessible at a real-looking URL, you'll need to claim a domain name and tie it to the web server. This is also necessary to enable HTTPS, since some certificate authorities won't issue a certificate for a bare IP address or a subdomain that you don't own. In this section, you'll see how to register and configure a domain.
Making Your Site Production-Ready With HTTPS
You can take your site's security from good to great with a few more steps, including enabling HTTPS and adding a set of headers that help web browsers work with your site in a more secure fashion. Enabling HTTPS increases the trustworthiness of your site, and it's a necessity if your site uses authentication or exchanges sensitive data with users.
Conclusion
If you've followed along with this tutorial, your site has made bounds of progress from its previous self as a fledging standalone development Django application. You've seen how Django, Gunicorn, and Nginx can come together to help you securely serve your site.
In this tutorial, you've learned how to:
Take your Django app from development to production
Host your app on a real-world public domain
Introduce Gunicorn and Nginx into the request and response chain
Work with HTTP headers to increase your site's HTTPS security
You now have a reproducible set of steps for deploying your production-ready Django web application.
You can download the Django project used in this tutorial by following the link below:
Further Reading
With site security, it's a reality that you're never 100% of the way there. There are always more features that you can add to secure your site further and produce better logging info.
Check out the following links for additional steps that you can take on your own: