Computer vision is an exciting and growing field. There are tons of interesting problems to solve! One of them is face detection: the ability of a computer to recognize that a photograph contains a human face, and tell you where it is located. In this article, you'll learn about face detection with Python.
To detect any object in an image, it is necessary to understand how images are represented inside a computer, and how that object differs visually from any other object.
Once that is done, the process of scanning an image and looking for those visual cues needs to be automated and optimized. All these steps come together to form a fast and reliable computer vision algorithm.
In this tutorial you'll learn:
What face detection is
How computers understand features in images
How to quickly analyze many different features to reach a decision
How to use a minimal Python solution for detecting human faces in images
What Is Face Detection?
Face detection is a type of computer vision technology that is able to identify people's faces within digital images. This is very easy for humans, but computers need precise instructions. The images might contain many objects that aren't human faces, like buildings, cars, animals, and so on.
It is distinct from other computer vision technologies that involve human faces, like facial recognition, analysis, and tracking.
Facial recognition involves identifying the face in the image as belonging to person X and not person Y. It is often used for biometric purposes, like unlocking your smartphone.
Facial analysis tries to understand something about people from their facial features, like determining their age, gender, or the emotion they are displaying.
Facial tracking is mostly present in video analysis and tries to follow a face and its features (eyes, nose, and lips) from frame to frame. The most popular applications are various filters available in mobile apps like Snapchat.
All of these problems have different technological solutions. This tutorial will focus on a traditional solution for the first challenge: face detection.
How Do Computers "See" Images?
The smallest element of an image is called a pixel, or a picture element. It is basically a dot in the picture. An image contains multiple pixels arranged in rows and columns.
You will often see the number of rows and columns expressed as the image resolution. For example, an Ultra HD TV has the resolution of 3840x2160, meaning it is 3840 pixels wide and 2160 pixels high.
But a computer does not understand pixels as dots of color. It only understands numbers. To convert colors to numbers, the computer uses various color models.
In color images, pixels are often represented in the RGB color model. RGB stands for Red Green Blue. Each pixel is a mix of those three colors. RGB is great at modeling all the colors humans perceive by combining various amounts of red, green, and blue.
Since a computer only understand numbers, every pixel is represented by three numbers, corresponding to the amounts of red, green, and blue present in that pixel. You can learn more about color spaces in Image Segmentation Using Color Spaces in OpenCV + Python.
In grayscale (black and white) images, each pixel is a single number, representing the amount of light, or intensity, it carries. In many applications, the range of intensities is from 0 (black) to 255 (white). Everything between 0 and 255 is various shades of gray.
If each grayscale pixel is a number, an image is nothing more than a matrix (or table) of numbers: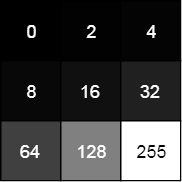 In color images, there are three such matrices representing the red, green, and blue channels.
What Are Features?
A feature is a piece of information in an image that is relevant to solving a certain problem. It could be something as simple as a single pixel value, or more complex like edges, corners, and shapes. You can combine multiple simple features into a complex feature.
Applying certain operations to an image produces information that could be considered features as well. Computer vision and image processing have a large collection of useful features and feature extracting operations.
Basically, any inherent or derived property of an image could be used as a feature to solve tasks.
Preparation
To run the code examples, you need to set up an environment with all the necessary libraries installed. The simplest way is to use conda.
You will need three libraries:
scikit-image
scikit-learn
opencv
To create an environment in conda, run these commands in your shell:
$ 

conda create --name face-detection 

python

=

3

.7


$ 

source

 activate face-detection


(face-detection)

$ 

conda install scikit-learn


(face-detection)

$ 

conda install -c conda-forge scikit-image


(face-detection)

$ 

conda install -c menpo opencv3

If you are having problems installing OpenCV correctly and running the examples, try consulting their Installation Guide or the article on OpenCV Tutorials, Resources, and Guides.
Now you have all the packages necessary to practice what you learn in this tutorial.
Viola-Jones Object Detection Framework
This algorithm is named after two computer vision researchers who proposed the method in 2001: Paul Viola and Michael Jones.
They developed a general object detection framework that was able to provide competitive object detection rates in real time. It can be used to solve a variety of detection problems, but the main motivation comes from face detection.
The Viola-Jones algorithm has 4 main steps, and you'll learn more about each of them in the sections that follow:
Selecting Haar-like features
Creating an integral image
Running AdaBoost training
Creating classifier cascades
Given an image, the algorithm looks at many smaller subregions and tries to find a face by looking for specific features in each subregion. It needs to check many different positions and scales because an image can contain many faces of various sizes. Viola and Jones used Haar-like features to detect faces.
Further Reading
The Viola-Jones algorithm was an amazing achievement. Even though it still performs great for many use cases, it is almost 20 years old. Other algorithms exist, and they use different features
One example uses support vector machines (SVM) and features called histograms of oriented gradients (HOG). An example can be found in the Python Data Science Handbook.
Most current state-of-the-art methods for face detection and recognition use deep learning, which we will cover in a follow-up article.
For state-of-the-art computer vision research, have a look at the recent scientific articles on arXiv's Computer Vision and Pattern Recognition.
If you're interested in machine learning but want to switch to something other than computer vision, check out Practical Text Classification With Python and Keras.
Conclusion
Good work! You are now able to find faces in images.
In this tutorial, you have learned how to represent regions in an image with Haar-like features. These features can be calculated very quickly using integral images.
You have learned how AdaBoost finds the best performing Haar-like features from thousands of available features and turns them into a series of weak classifiers.
Finally, you have learned how to create a cascade of weak classifiers that can quickly and reliably distinguish faces from non-faces.
These steps illustrate many important elements of computer vision:
Finding useful features
Combining them to solve complex problems
Balancing between performance and managing computational resources
These ideas apply to object detection in general and will help you solve many real-world challenges. Good luck!