If you're up for a little challenge and would like to take your programming skills to the next level, then you've come to the right place! In this hands-on tutorial, you'll practice object-oriented programming, among several other good practices, while building a cool maze solver project in Python.
From reading a maze from a binary file, to visualizing it using scalable vector graphics (SVG), to finding the shortest path from the entrance to the exit, you'll go step by step through the guided process of building a complete and working project.
In this tutorial, you'll learn how to:
Use an object-oriented approach to represent the maze in memory
Define a specialized binary file format to store the maze on disk
Transform the maze into a traversable weighted graph
Use graph search algorithms in the NetworkX library to find the solution
Visualize the maze and its solution using scalable vector graphics (SVG)
Click the link below to download the complete source code for this project, along with the supporting materials, which include a few sample mazes:
Demo: Python Maze Solver
At the end of this tutorial, you'll have a command-line maze solver that can load your maze from a binary file and show its solution in the web browser:
You'll learn how to build your own mazes like this from scratch and save them on disk. In the meantime, feel free to grab one of the sample mazes from the supporting materials. Now, get ready to dive in!
Project Overview
Take a glimpse at the expected file structure of your project. Once finished, your project's file and directory tree will look as follows:
maze-solver/
│
├── mazes/
│   ├── labyrinth.maze
│   ├── miniature.maze
│   └── pacman.maze
│
├── src/
│   │
│   └── maze_solver/
│       │
│       ├── graphs/
│       │   ├── __init__.py
│       │   ├── converter.py
│       │   └── solver.py
│       │
│       ├── models/
│       │   ├── __init__.py
│       │   ├── border.py
│       │   ├── edge.py
│       │   ├── maze.py
│       │   ├── role.py
│       │   ├── solution.py
│       │   └── square.py
│       │
│       ├── persistence/
│       │   ├── __init__.py
│       │   ├── file_format.py
│       │   └── serializer.py
│       │
│       ├── view/
│       │   ├── __init__.py
│       │   ├── decomposer.py
│       │   ├── primitives.py
│       │   └── renderer.py
│       │
│       ├── __init__.py
│       └── __main__.py
│
├── pyproject.toml
└── requirements.txt

Yes, that's a lot of files, but don't worry! Most of them are fairly short, and some contain only a few lines of code. This helps keep things organized and makes the individual pieces reusable, letting you compose them in new ways. Such granularity also plays an important role in Python projects with larger codebases by avoiding the notorious circular dependency error that you might encounter if various parts of the code were in one big file.
The mazes/ subfolder is home to a few binary files with sample data that you're going to use in this tutorial. You can get these files, along with the final source code and snapshots of the individual steps, by downloading the supporting materials:
The src/ subfolder contains your Python modules and packages for the maze solver project. The maze_solver package consists of several subpackages that group logically related code fragments, including:
graphs: The traversal and conversion of the maze to a graph representation
models: The building blocks of the maze and its solution
persistence: A custom binary file format for persistent maze storage
view: The visualization of the graph with scalable vector graphics
You'll also find the special __main__.py file, which makes the enclosing package runnable so that you can execute it directly from the command line using Python's -m option:
$ 

python

 

-m

 

maze_solver

 

/path/to/sample.maze

Copied!
When launched like this, the package reads the specified file with your maze. After solving the maze, it renders the solution into an SVG format embedded in a temporary HTML file. The file gets automatically opened in your default web browser. You can also run the same Python code using a shortcut command:
$ 

solve

 

/path/to/sample.maze

Copied!
It'll work as long the solve command isn't already taken or aliased by another program.
Finally, pyproject.toml provides your project's configuration, metadata, and dependencies defined in the TOML format. The project only depends on one external library, which you'll use to find the shortest path in the maze represented as a graph.
Next up, you'll review a list of relevant resources that might become your savior in case you get stuck at any point. Also, remember the supporting materials, which contain a snapshot of each finished step. Along the way, you can compare your progress to the relevant step to ensure that you're on the right track.
Prerequisites
This tutorial will best suit intermediate Python developers who'd like to practice object-oriented programming (OOP) while building a cool project. Throughout this tutorial, you'll be using several neat features of modern Python, so make sure you're on Python 3.10 or later. Also, it might be worth brushing up on the following topics before you dive in:
Note that you don't need to be an expert in any of these areas to follow along with the tutorial, as it'll guide you through the steps involved. In fact, a key aspect of your learning experience will be seeing these features in a practical context.
With that out of the way, you can move on to your project!
Step 1: Lay the Groundwork for the Project
The first step to writing any code starts on paper. Therefore, you'll now take a step back to figure out what problem you're solving and how you're going to approach it. You'll begin by narrowing down the design requirements for your maze.
Define the Problem Constraints
Mazes come in different shapes and forms, but you'll concentrate on one kind that you'd find in a typical maze-puzzle video game from the early 1980s, like Boulder Dash or Sokoban. For example, the following maze was inspired by the classic Pac-Man game: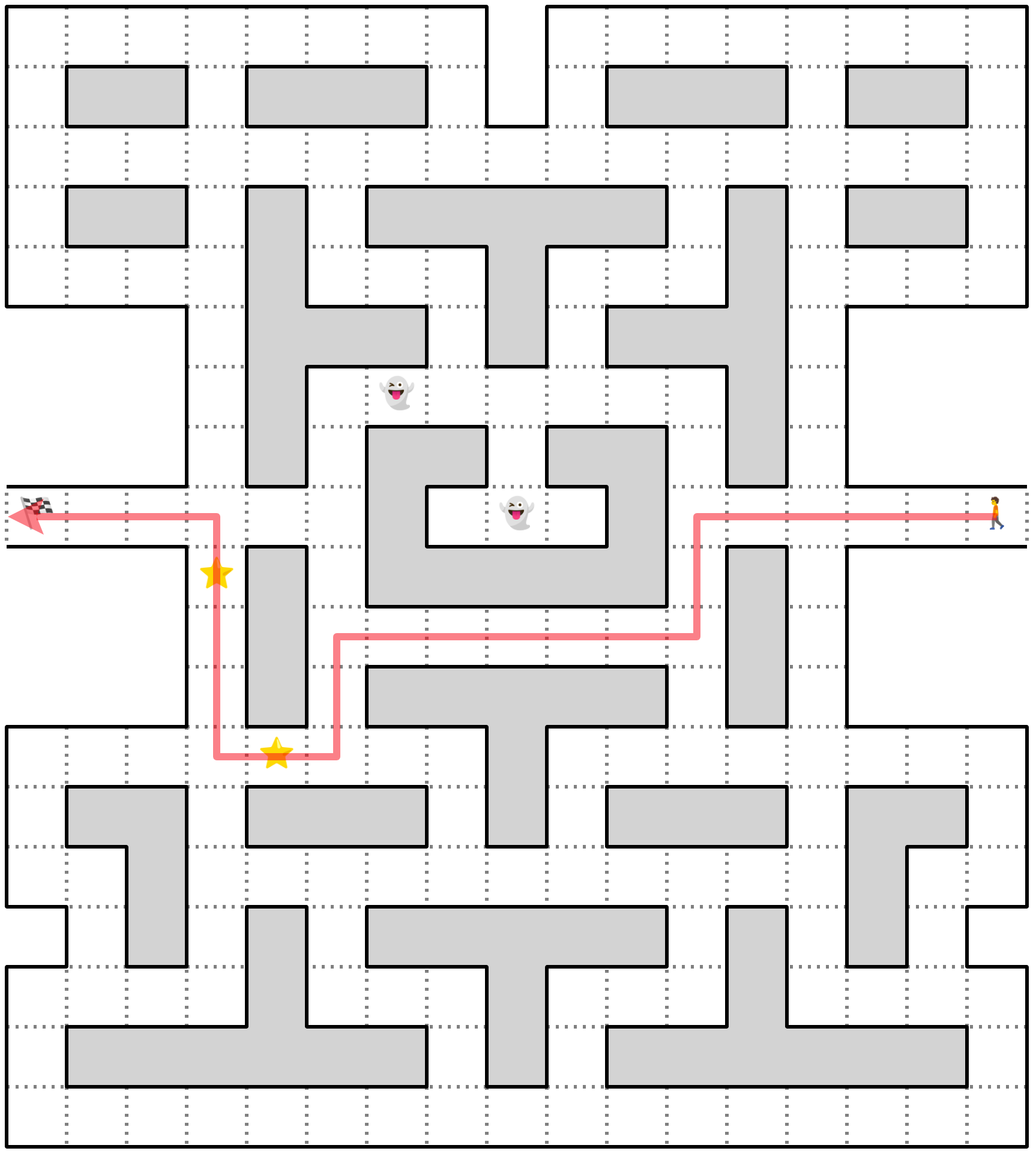 This maze is enclosed in a rectangle comprising a grid of square cells that form passages along straight lines. Therefore, paths in your maze will only be vertical or horizontal rather than diagonal or circular, for example, and each cell will be one unit wide. This will become important for calculating and comparing the distances later.
Note: You can give your maze any shape by surrounding it with empty squares marked as exterior to form an open space. However, you might want to align the maze's edges with the enclosing rectangle to save some memory.
An additional restriction that you'll impose on your maze is that it must have exactly one entrance and exactly one exit, both of which should occupy distinct cells. A few alternative paths can connect them, including paths with cycles that lead back to a place you've already visited.
Solving the maze means finding a path leading from the entrance to the exit. Each solution should include acyclic paths. In other words, a single path location should only be traversed once without backtracking. You also want to consider only the shortest paths while disregarding less optimal, meandering ones. However, defining the shortest distance is subject to interpretation, as you'll find out later in this tutorial.
Later, you'll introduce enemies and rewards to the maze so that your hypothetical player can collect extra points and avoid obstacles. But how do you actually find the way out of the maze?
Well, mazes are a perfect example of graph theory in action. As it turns out, you can represent your maze with an undirected graph consisting of nodes and edges connecting them. Each node or vertex is where two or more paths intersect, while edges are the connections between those intersections:
Apart from nodes representing the intersections and dead ends in the maze, there are a few extra nodes in the graph above that capture the presence of enemies and rewards. By associating numeric weights with edges that pass through them, you can influence the cost of the given connection. Later, you'll add nodes for corners to make plotting the path from the entrance to the exit a tad bit easier.
Note: Strictly speaking, the graph corresponding to a maze can be a more specialized type known as a multigraph when it has two or more parallel edges that connect neighboring nodes.
It's worth noting that you can draw the same graph in different ways without changing its underlying structure. For example, you could draw all edges as straight lines, let them cross each other, or arrange the nodes in a certain pattern.
Mathematically, a graph is nothing more than a set of nodes and edges, which you can lay out in any order and locations you like. Therefore, transforming the maze into a graph is an irreversible process resulting in losing some information about its visual features. At the same time, a graph is a remarkably convenient representation for finding the shortest path in the maze.
In this tutorial, you won't be implementing any graph traversal algorithms, such as the depth-first search (DFS), breadth-first search (BFS), or Dijkstra's algorithm for finding the shortest path. Instead, you'll leverage the excellent NetworkX library, which already implements these and more algorithms, to do the heavy lifting for you.
Now that you've clarified the problem at hand, you can start thinking about how to approach it from a technical perspective. It's time to lay the groundwork for some Python code!
Scaffold the Project Structure
Use your favorite code editor or a cloud-based IDE to create a new Python project while specifying an isolated virtual environment for its dependencies. The minimum interpreter version required for this project is Python 3.10 due to a few syntactic constructs introduced in that release, which you'll be using. If you can, consider switching to a more recent release for better performance and other improvements.
Note: You may use pyenv to manage multiple Python versions on your computer.
Once you have the project set up in your editor, scaffold the initial folder structure with these two nested Python packages, both of which should be empty at the moment:
maze-solver/
│
├── src/
│   │
│   └── maze_solver/
│       │
│       ├── models/
│       │   └── __init__.py
│       │
│       └── __init__.py
│
└── pyproject.toml

By placing the project's root package under the src/ subfolder, you follow the so-called src layout convention for organizing files in a project. Note that the pyproject.toml file should live outside of the src/ subfolder.
The alternative is a flat layout with all files in the same folder. You can read about their differences in the official Python Packaging User Guide. In a nutshell, the src layout is preferred for larger projects because it allows you to better separate the project code from other files, such as tests.
While the project's name is maze-solver with a hyphen (-), you named the corresponding Python package using an underscore character (_) to form a valid Python identifier, which follows the same rules as variable names. The rules for naming a Python project, or a distribution package in slightly more technical terms, are more liberal. If you're curious enough, you can check PEP 508 to find the regular expression that validates these names.
To install your project in an active virtual environment, you'll need to specify the minimum required configuration in the TOML file, such as the name and version of your project. Go ahead and open your pyproject.toml file now, and then paste the following content into it:
# pyproject.toml





[build-system]




requires

 

=

 

[

"setuptools>=64.0.0"

,

 

"wheel"

]




build-backend

 

=

 

"setuptools.build_meta"





[project]




name

 

=

 

"maze-solver"




version

 

=

 

"1.0.0"



Copied!
It's a pretty standard configuration and a good starting point for most Python projects and libraries. Note that you don't have to explicitly state what folder layout your project is following because the build tools like setuptools will automatically find your Python source code.
If you're planning to publish your package on PyPI, then you should pick a globally unique name that won't conflict with an existing Python distribution package. Otherwise, you have a fair amount of freedom in choosing your project name.
After you've saved your changes in the pyproject.toml file, you can install maze-solver with pip by running the following command from the root directory of your project:
(venv)

 

$ 

python

 

-m

 

pip

 

install

 

--editable

 

.

Copied!
During the development of a src-layout project, it's advisable to use the --editable flag or its -e alias to ensure that any changes you make to your code are immediately reflected in the virtual environment. Otherwise, you'd have to manually reinstall the package each time you edit the code.
Note: If you run into an error about not being able to install the directory in editable mode due to a missing setup.py or setup.cfg file, then you may need to upgrade pip itself:
(venv)

 

$ 

python

 

-m

 

pip

 

install

 

--upgrade

 

pip

Copied!
Projects based on pyproject.toml support editable installs through PEP 660, which was implemented in pip starting from version 21.3.
To confirm that you've successfully installed the maze_solver package in your virtual environment, head over to the interactive Python REPL and try importing the package:
If everything works fine, then you shouldn't see any output or error messages after running the line of code above. Otherwise, you'll immediately get a ModuleNotFoundError.
Great! With the scaffolded Python project in place, you can now proceed to coding an object-oriented representation of the maze.
Step 2: Represent the Maze Using an Object-Oriented Approach
At this point, you know what kind of maze you'll be solving and have a good idea of the best data structure to represent it with.
In this step, you'll use a top-down approach to conceptually decompose the maze into a set of basic elements. One by one, you'll implement those elements as objects and combine them to represent the complete maze. By the end of this step, you'll be able to build any maze you like, including virtual replicas of real-world hedge mazes, maize mazes, or even ice mazes that can be found in amusement parks around the world!
Step 3: Visualize the Maze With Scalable Vector Graphics (SVG)
If you tried printing a crude visualization of your maze in the console using ASCII characters, then you might have noticed that it doesn't look all that great. The reason is that, unlike squares, font glyphs are rectangular, which results in a vertically stretched image that doesn't have the right proportions. Therefore, you need to find a different way to visualize your maze.
By the end of this step, you'll be able to render any maze and, optionally, one of its solutions using the XML-based scalable vector graphics (SVG) format. You can use your web browser to preview the resulting SVG image, or you can open it in a vector graphics editor like Inkscape.
Step 4: Load the Maze From a Binary File
At this point, you can build and draw the maze. However, creating it by hand in Python takes a lot of error-prone and tedious effort. By the end of this step, you'll have a custom file format for the persistent storage of mazes, which you'll be able to save and load at a push of a button. Besides that, you'll be able to load the sample mazes supplied with this tutorial.
Step 5: Solve the Maze Using a Graph-Based Approach
At this point, you can represent the maze and its solution in an object-oriented form. You can visualize them, as well as serialize the maze using a custom binary file format. Now, it's time to convert your maze to a graph and let Python find the shortest path from the entrance to the exit. By the end of this step, you'll have a command-line program for solving and visualizing mazes loaded from the specified file.
Conclusion
Congratulations on completing this in-depth tutorial!
You've successfully built a maze solver in Python, which you can use to find one or more solutions to mazes stored in your custom binary file format. You know how to represent the maze both in object-oriented and graph form suitable for the NetworkX library and how to visualize it using scalable vector graphics. Finally, you made a self-contained, runnable Python package with a command-line interface.
In this tutorial, you've learned how to:
Use an object-oriented approach to represent the maze in memory
Define a specialized binary file format to store the maze on disk
Transform the maze into a traversable weighted graph
Use graph search algorithms in the NetworkX library to find the solution
Visualize the maze and its solution using scalable vector graphics (SVG)
You can find the complete source code for this project, as well as snapshots of the individual steps, in the supporting materials, which you can download using the link below: